I grew up in my home state of West Virginia around college football.
Each fall was spent either listening to the Mountaineers on hunting trips or traveling up to Morgantown for games.
After a while, I started going to road games as well here and there.
Later on, I started my career in sports departments of small West Virginia newspapers in Parkersburg and Clarksburg - eventually covering Marshall when Byron Leftwich was their quarterback.
I've had that base of things in my life, when a few years ago, I got this notion of wanting to see a home game at every FBS college team.
I'm up to 18 (of 130), and am knocking off a handful each year until my kids go off to start their adult lives and/or I retire some day in the future.
From now on, I'll post more detailed things along the way, but I figured I'd load up the current list and state of things.
2020
No progress here because moves arms in a circle at the general state of the world in that year.
2019
Bowling Green at Buffalo - November 29, 2019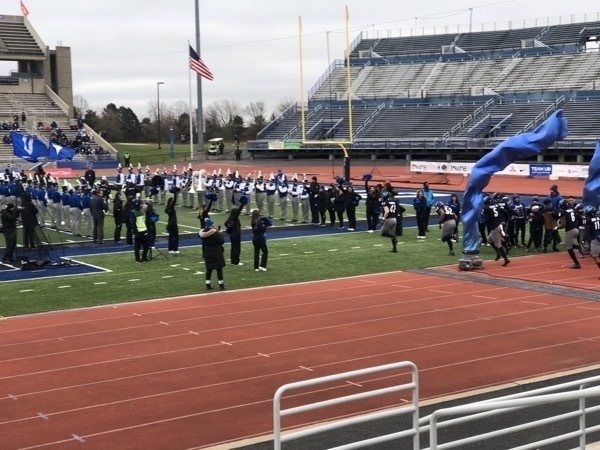 Home team running onto the field.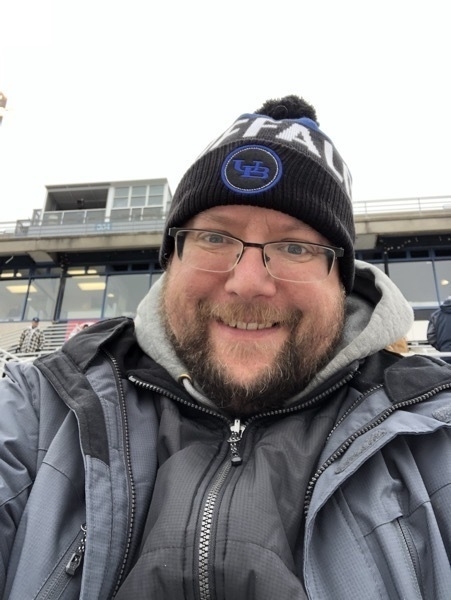 One of the more-useful hats I collected along the way.
Observations
Buffalo in late November is quite possibly the ideal state for this visit to a tiny stadium tucked away in a mostly residential area.
Able to witness a nearly empty stadium, some light snowflakes, and a huge day from Buffalo running back Jaret Patterson.
Biggest oddity, though, was the lack of a halftime show of any sort … and there was a band there (as you can see in the first photo).
Good coffee, though.
UAB at Western Kentucky - September 28, 2019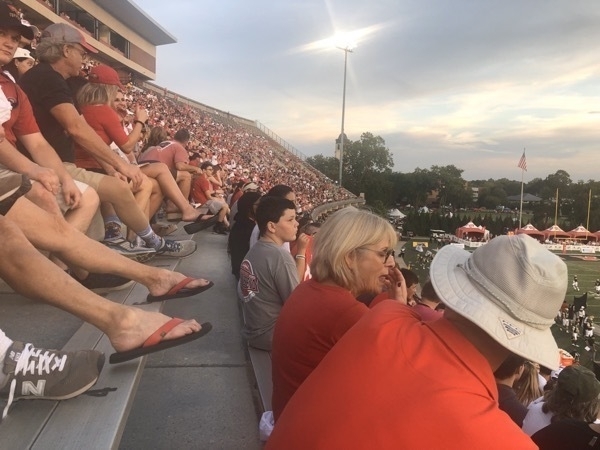 Fans in the stands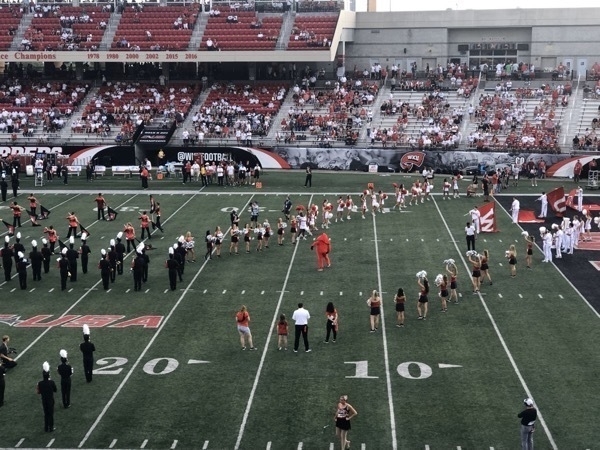 Home team running on to the field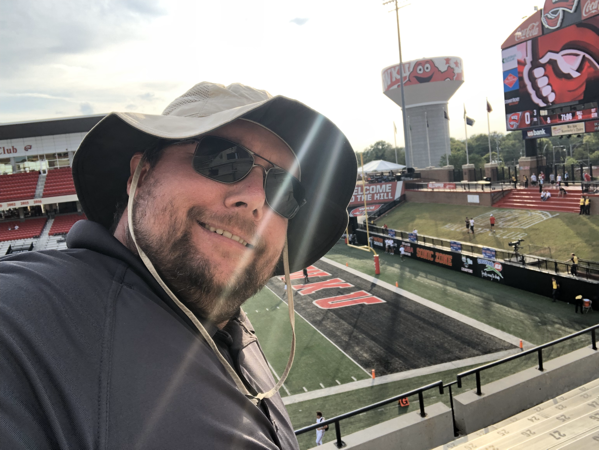 Me and Big Red (in water cooler form)
Observations
The second stop of a double-header day (more below on the visit to Vanderbilt earlier in the day), WKU reminded me most of games I'd attended at Marshall - just red instead of green.
One of the few times since I've committed to this quest that I didn't pick up a hat - I couldn't find an in-stadium merch store. All I have from here are photos, a themed game day t-shirt, and a long-digested belly of Cook Out for dinner beforehand.
Ended up driving home to Indianapolis around halftime - rolling into my driveway near midnight.
Northern Illinois at Vanderbilt - September 28, 2019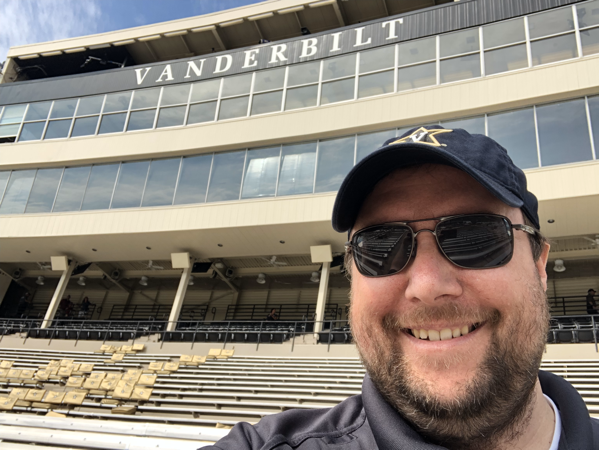 Likely my most-used hat from my trips so far - I can pretend the "V" stands for "Vannoy" instead of "Vanderbilt"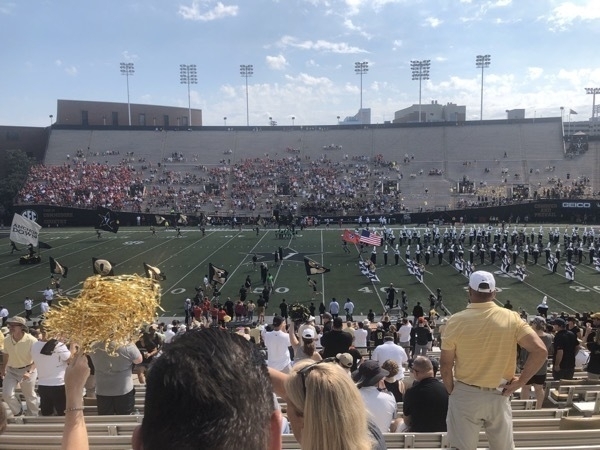 Sparsely attended … though a surprisingly large contingent of Northern Illinois folks.
Observations
Woke up and started my day with a drive down to Nashville - about four hours south of my home in Indianapolis - in tiem for this noon kickoff.
Vandy might be the weirdest of my trips so far (well, perhaps tied to Buffalo). It's a strange atmosphere mix of SEC money, MAC enthusiasm, and an urban campus. Huge production/scoreboard, announcers and the like and a very "meh" crowd reaction throughout.
Didn't help that the home team struggled mightily with a middle of the pack MAC team.
Tennessee Tech at Miami (OH) - September 7, 2019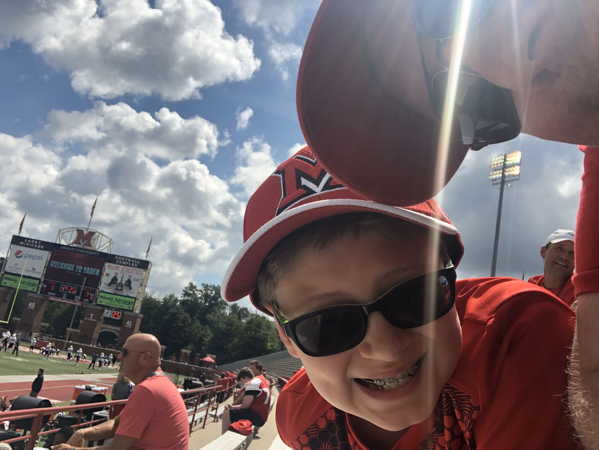 I brought a buddy to this one!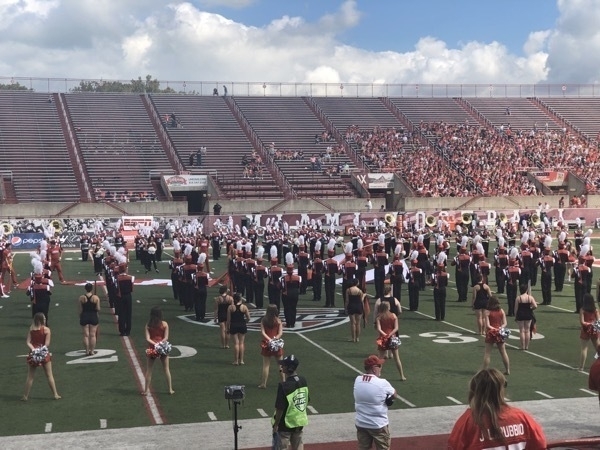 The band is on the field! The band is on the field! (they were supposed to be … this is pregame)
Observations
This is so far my favorite MAC experience. It feels like a small library arts college - but it's a public Ohio university. A cute college town, a walkable campus, a fun culture and great small college atmosphere.
Super fun and I highly recommend it.
UCLA at Cincinnati - August 29, 2019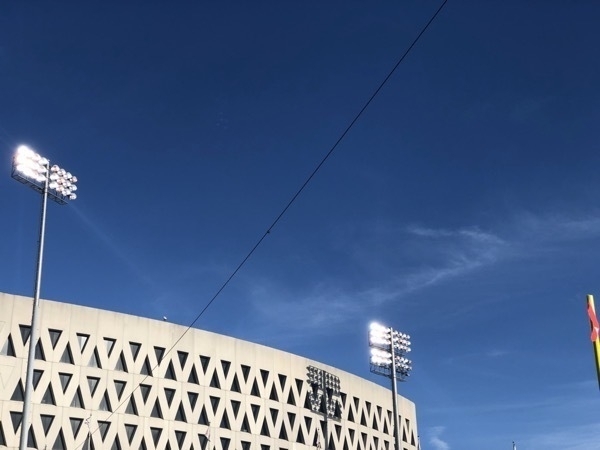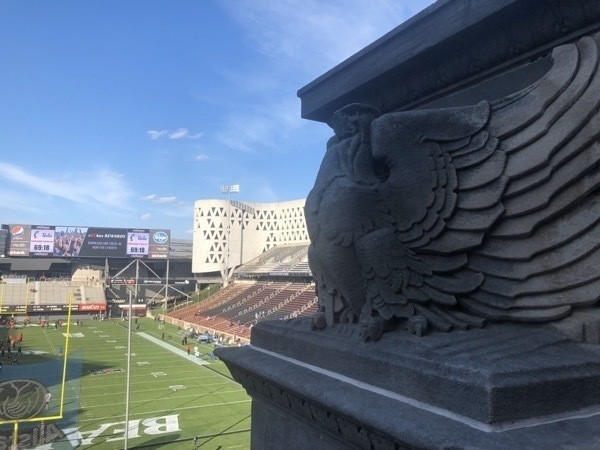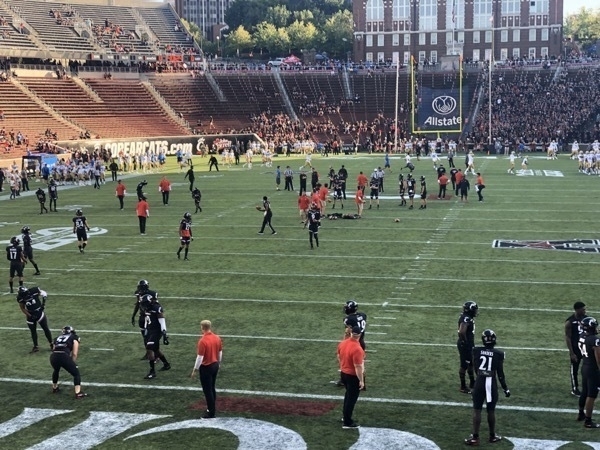 Nippert Stadium is really neat.
Observations
Nippert Stadium, where UC plays, is packed into and surrounded by this urban campus and is among the most unique venues I've been to.
Helped to watch them kick off the season with a solid win.
Also relatively easy to get in and out of.
2018
Buffalo at Toledo - October 20, 2018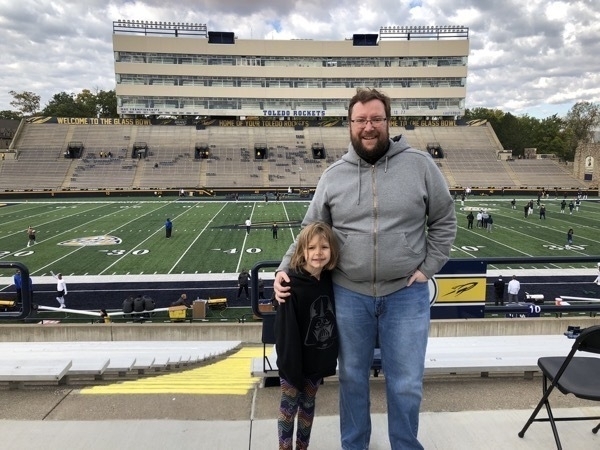 Brought my other buddy to this one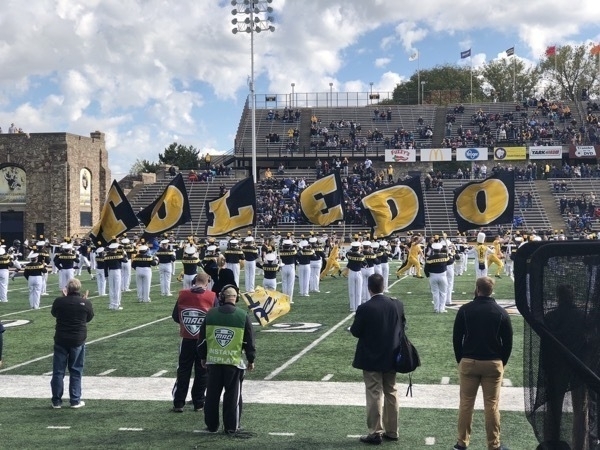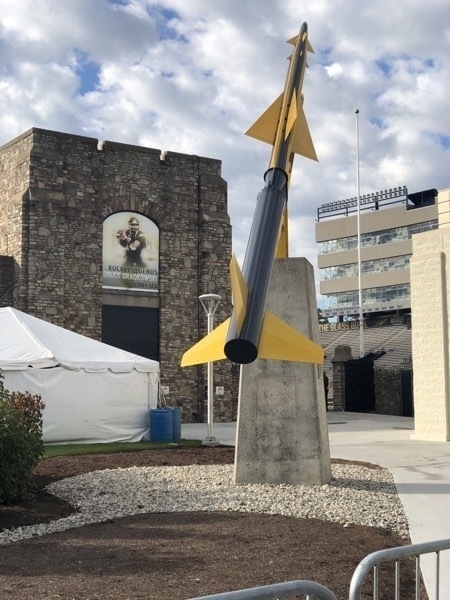 Observations
With her brother spinning cubes at a World Cube Association event down in Findlay, my daughter and I went north a bit to catch a game at The Glass Bowl in Toledo.
Nice fall day, cool old stadium, and I enjoy the pettiness of the rocket (pictured above) supposedly pointed on a trajectory that would hit the fifty yard line ~25 miles down the road at traditional arch-rival Bowling Green.
Good local pizza, too.
West Virginia at Iowa State - October 13, 2018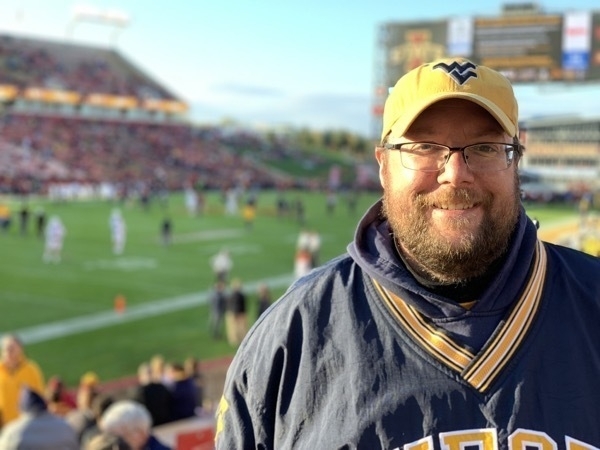 I usually root for the home team, but there are exceptions.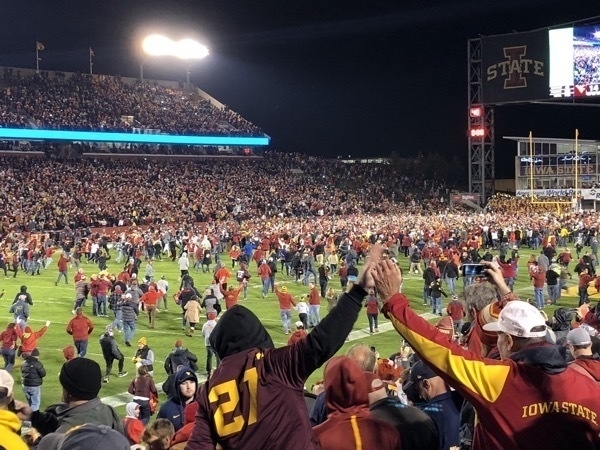 As a WVU game, this sucked … but as an Iowa State experience, it's hard to imagine better.
Observations
Reminded me an awful lot of WVU, which makes sense given the identical original stadium design. Ames is also a cute town, and it was fun to attend the official WVU tailgate thing before the game.
As I mentioned up the caption, as a WVU fan, this game sucked. We went in ranked #6 in the country and got positively pantsed.
As part of The Quest, though, this was probably the best-case scenario for seeing a night game in Ames.
Just sucked to have it happen to my team.
And the cookie-dough place in the stadium also sucked. Do better.
Indiana at Ohio State - October 6, 2018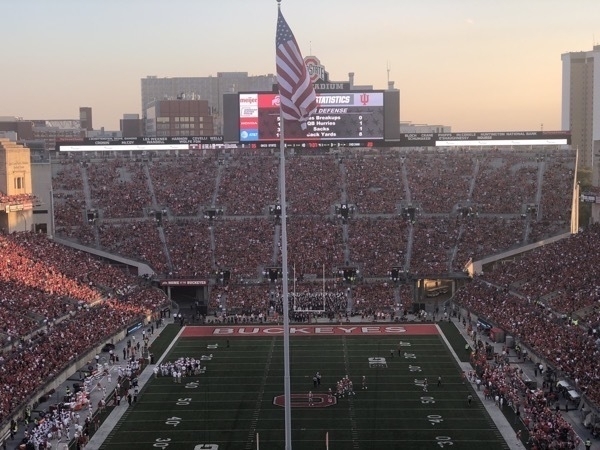 Top row, behind the endzone. Not bad seats at all, and ones that amde it real obvious how bad OSU's pass defense was this year.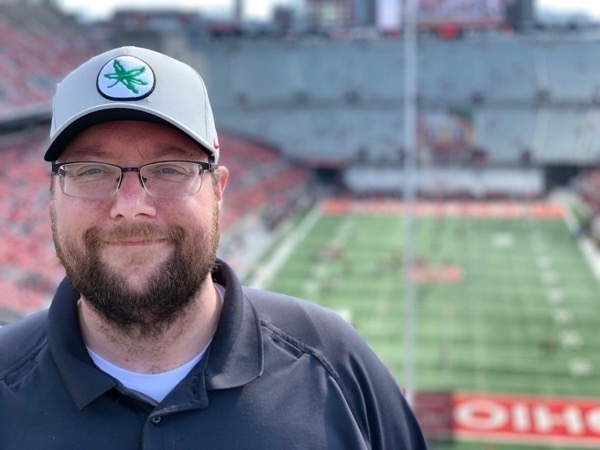 Great photo of me (other than the hat), taken by my wife (not pictured) who set up this game and the Iowa State one for my 40th birthday present.
Observations
Dotting the I is way cooler than I anticipated. Otherwise, this is pretty generic college football product.
No, I don't much like Ohio State-Columbus … why do you ask?
2017
Central Michigan at Ball State - October 21, 2017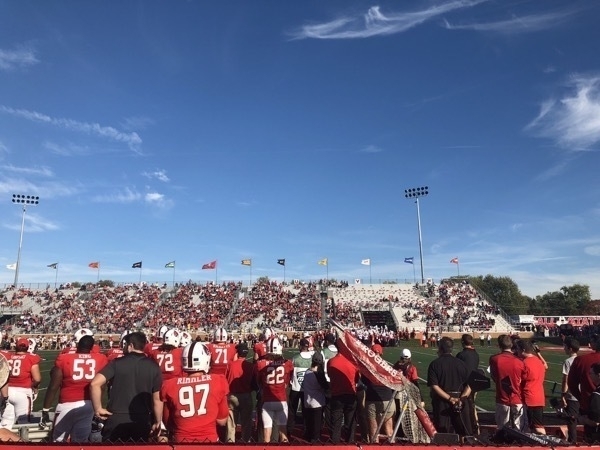 A nice thing about MAC games is you can end up with pretty much any seat you want.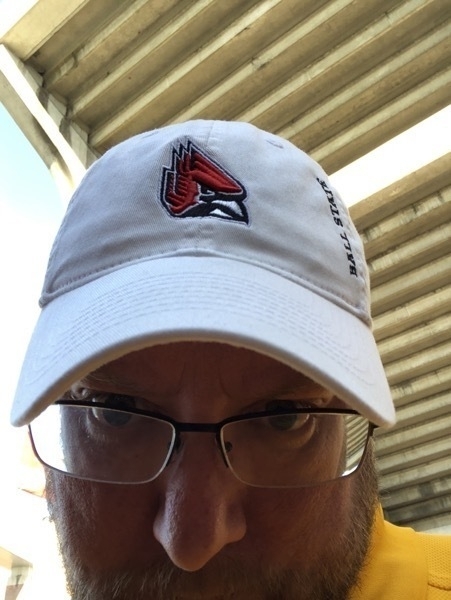 Chirp. Chirp.
Observations
Ball State has always been right up the road from my adult home here in Indianapolis, but I'd never made it up there until this trip.
This trip - done more or less on a whim - is also what triggered The Quest into being, really. I had such a good time (despite the lopsided score) with the fans, the game atmosphere, the stands and everything else that I figured I wanted to see all of them.
Earlier
Photos exist for a few more of these, but they're actual hard copies and I don't feel like dragging out the scanner just yet.
A few others I'm hazy on the year, but am sure my Dad took me on a WVU road trip there.
Missouri State at Kansas State - September 1, 2012
Wisconsin at Purdue - November 6, 2010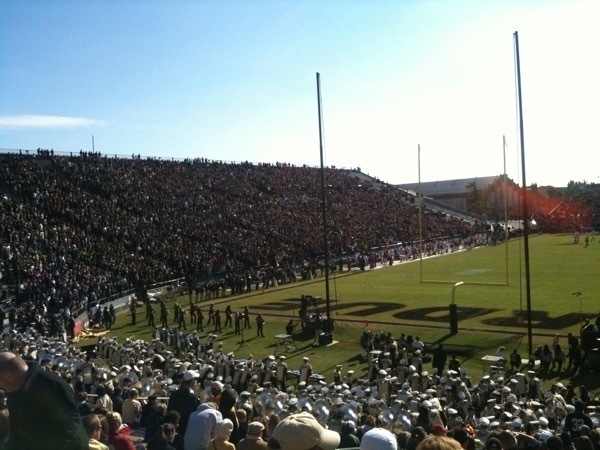 Penn State at Indiana - October 20, 2007
Trip down to Bloomington with my wife - before we had kids and had fully settled in to Hoosier-dom.
Marshall at Virginia Tech - September 12, 2002
Part of my brief time covered Marshall college football for a small newspaper in West Virginia.
Several at West Virginia
Earliest I remember is a Miami at WVU game with Testaverde as the Hurricane QB in 1986 (they clobbered us).
WVU at East Carolina
Fun fact: Back then, "Scotty's Pottys" provided the portable toilets. I find this funny to this day.
WVU at Louisville
As I recall, there's a Unitas statue out front - or was way back then.
WVU at Maryland
I remember this one because some of the folks we were traveling with convinced a Maryland State Trooper to give me a hard time (I was maybe 12 at the time).
A few at Marshall
I can't recall which specific games I covered, but I definitely made it down to Huntington for a handful during my time covering them.